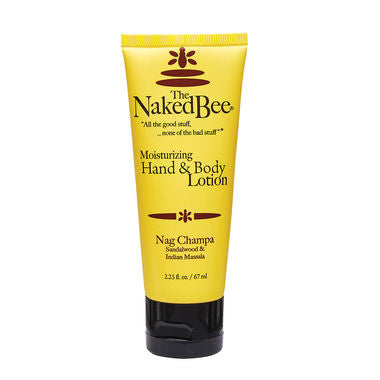 Naked Bee
Naked Bee Nag Champa
A peaceful blend of Sandalwood & Indian Masala 2.25 fl. oz. 
Moisturizing Hand & Body Lotion from The Naked Bee is a compact, concentrated, a convenient lotion that offers "All of the good stuff, none of the bad stuff."
Contains Organic Aloe Vera to help restore, heal and promote healthy skin.
Contains Sunflower oil, rich in antioxidants, to nourish and protect skin.
Contains Honey, which is antibacterial, moisturizing and nutritive for all skin types.
Contains Hyaluronic acid, a powerful hydration that soothes and softens skin.
Contains Spirulina, which provides concentrated nutrients for skin conditioning and detoxification.
pH balanced. Hypoallergenic. Non-comedogenic
Paraben-Free
NO propylene glycol. NO drying alcohol. NO mineral oil.
NO dyes or pigment. NO EDTA. NO lauryl or Laureth sulfate.
Phthalate-free fragrance.
NO animal testing.
---
More from this collection